Are you confused about how to grow cucumbers indoors/Hydroponically? 
Here is all you need!
Although cucumber gives less profit than tomato the value is added if it is pickled for direct consumption!
Are you Growing cucumbers in the greenhouse?
NFT hydroponic method is not recommended for cucumber!
Do you know field-grown cucumbers are not grown in the greenhouse till now only European seedless types can be grown both ways!
The European seedless type is parthenocarpic which means it produces fruit without pollination.
Gynoecious types (with few male flowers) are acceptable since they are less vigorous, produce more and can withstand clod temp.
Seed Germination for cucumber:-
Seeds germinate in 2 to 3 days and 28° is the optimum temp for germination, for seedling 25° is optimum!
During seedling growth, both water and nutrient stress should be avoided.
When you should transplant the cucumber seedling?
When the seedling has three to four true leaves, it is ready for transplanting into your growing medium.
CLICK HERE TO KNOW THE SECRET OF GROWING LETTUCE
What growing medium you should use for cucumber?
It is generally grown in
Perlite bags,
BATO buckets(recommended)

Rockwool cubes on Rockwool slabs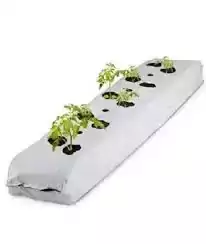 You should sterilize the growing medium before transplanting to avoid root diseases like black root rot as it is common. The nutrient solution applied using drip irrigation,
CLICK HERE FOR THE "SAVE AND GROW" ARTICLE 
Temperature requirements for cucumber.
Cucumber grows best under high air temperatures [50 to 55°F (26.6 to 29.4°C)]
Cucumber can withstand high and low temp but not greater than 56°F (30°C)]!
The nutrient solution temperature should not exceed 71.6°F (22°C) it happens when the air temp is higher than 40°!
And make sure if air movement between the canopy is good.
Spacing recommended for cucumber foliage growth.
Space between rows should be 4 to 5 ft (1.2 to 1.5 m) with plants spaced 12 to 18 in. (30 to 45 cm) in the row.
High plant density can reduce fruit set and size and increase the potential for disease infestation.
Pruning of cucumber foliage:–
 It is to make a single stem using two pruning systems, an original umbrella or a modified umbrella
The cucumber plant can be trained to a support wire in four different configurations: canopy, vertical cordon, inclined cordon (V-cordon, V-training), and guernsey
Remove all the suckers that form between the leaves and stem on the main stem until the last few near the supporting cable as mentioned earlier, just pull them off by hand. The first seven to eight fruit should also be removed so that the plant can become vigorous enabling it to yield heavily later!
Be careful not to bend the growing tip of the plant too sharply as they can easily break.
PLANT NOT GROWING AS EXPECTED? CLICK HERE
Pruning and training create conditions  that establish complete leaf coverage (i.e., no light reaching the ground)
Foliage care.
Dead, diseased, or insect-damaged foliage should be removed as soon as identified.
If your fruit load is too heavy, plant vigour is reduced, and maturing fruit may be stunted.
unmarketable Fruit should be identified early and removed.
The curvature of the fruit, known as "crooking," can occur early in the fruit development stage, and such fruit should be removed from the Foliage.
cucumber tastes bitter when the cucumber plant is under stress, similar to that causing crooking
increasing too much EC can result in slow plant growth and poor fruit set.
Pollination…
Cucumbers are all female without any male flowers. For that reason, they do not form seeds. We, in fact, do not want any pollination of the female flowers or seeds would form!
Finally, Heads up to the nutrients!
Do know how to make a hydroponic nutrient solution recipe? Check out the link
Fruit Yield
Fruit yields can vary from a low of 2  fruits per plant per week to a high of 8 depending on light conditions.
Fruit harvest
20 to 40 fruit can be harvested per plant
Mature fruit will be ready for harvest normally within 2 weeks after your fruit is set!
Post Harvest
The fruit must be shrink-wrapped in order to maintain its turgidity due to its thin skin fruit can lose water and get shrink.
The fruit is best stored at 50 to 55°F (10 to 13°C) at 90 to 95% relative humidity with a shelf life from 10 to 14 days!
If you want to know more about the disease and pest infestation in cucumbers click here
Join Our Whatsapp Group for sharing your experience! Clickhere.
Join Our Telegram Group for Updates! Clickhere.
DON'T  FORGET TO SHARE THIS ARTICLE!