Do you know you can make your own hydroponic nutrient solution and feed plants! Of course, you can buy premixed hydroponic nutrient solution but you can save a ton of money by making them in-house, it is really easy to prepare you just have to go through this article to learn in a simple way!
To run a hydroponic system you have to focus on making the system work for a week or month so you have to plan accordingly to prepare nutrients for a long duration!
To create a hydroponic nutrient solution (Mother Stock Solution), you have to take a few compounds from the nitrate-based family and a few from the sulfate-based family.
So you have to make 2 separate mother stock tanks, Tank A ( for nitrate-based salt) & Tank B (for sulfate-based salts).
Well, I will answer your thought about why we gave to keep 2 separate stock tanks i.e because if we mix nitrate-based & sulfate-based compounds in a single tank then they will lose their tendency to dissolve in water.
Also, the interesting thing is we are including micronutrients in these tanks.
| TANK A (Nitrate-based) | TANK B (Sulfate-based) |
| --- | --- |
| Calcium nitrate, | Magnesium sulfate |
| Potassium nitrate | Monopotassium phosphate |
| Iron EDTA | Potassium sulfate. |
| | Copper, Boron, Zinc |
| | Manganese |
| | |
Tank A&B Composition
For home growers hydroponic nutrient solution recipe is very easy to make, the salts you buy from the market or local store are very dense and need to be diluted before using them so, to keep it simple you have to use the concept of 1:10:100, if you take 1 gram of calcium nitrate, you will have to mix it into 10 liters of mother stock solution water and we will use 10 ml for every liter of irrigation water in the reservoir, for eg. for 99L of irrigation water, you will need to add 1L of mother stock i.e 500ml for A and B into the reservoir so that total irrigation water will be 100L.
Plants require 16 elements to supply to power their cell machinery and fuel processes of growth and reproduction-
C -carbon
H -hydrogen
O -oxygen
These elements are taken up by plants through gas exchange and pores on the leaf.
N -nitrogen
P -phosphorus
K -potassium
These three nutrients are usually available in the N-P-K fertilizer mix.
Calcium nitrate(CaNO3), is cheap and best and it is a commonly used fertilizer.
Both nutrients are available in magnesium sulfate (MgSO4).
Cu -copper
Zn -zinc
B -boron
Mo -molybdenum
Fe -iron
Mn -manganese
Cl -chlorine
These nutrients should be present in negligible, commonly seen deficiency is of iron(Fe) and it can be supplemented using chelated iron.
You can tell if a plant is deficient if it shows symptoms, different symptoms indicate different deficiencies, to read more with the diagram please read my article on plant deficiency.
Now let's see how to use the hydro buddy app you can also download it by clicking on the link.
HydroBuddy is a completely free and open-source app for making hydroponic nutrient solution and for general agriculture which was built by – Daniel Fernandez – based on his experience in hydroponics as a professional chemist.
7 Steps to Make Hydroponic Nutrient Solution(Mother Stock)
Open the hydro buddy app and switch to the Main Page Tab and you can click on Zero all target if you want to enter your own target ppm, if not, follow the 2nd step.
2. You can also choose existing target ppm for some crops like lettuce and tomatoes etc which is already saved in-app.
3. Now the important part is here you have to add the salt/substance which you will use in making mother stock solution but make sure you are using high purity salts and good-quality salts, you can also choose commonly used stocks like calcium nitrate is commonly used for "calcium" and "nitrogen" element and it is cheap and best, Potassium nitrate for "potassium" and "nitrogen", iron chelate for iron, etc you can decide by your own or best decision is choosing salts which are highly water-soluble and commonly used,
You can take help from the compounds chart below, and remember hydroponic nutrients are not as fancy as big brands do marketing it is as simple as farmers use in soil but for efficiency purposes, you have to do the best mixing, you can use fertilizer salt available in local fertilizer store, well-known brands are good to have for better mixability.
Macro/Micronutrient compound chart for choosing compounds for making hydroponic nutrient solution.

Macronutrient Compounds
Cost
Remarks
Potassium nitrate
Low
Highly soluble, and pure
Calcium nitrate (Greenhouse grade)
Medium
Highly soluble
Ammonium sulfate, Ammonium dihydrogen phosphate, Ammonium nitrate, Ammonium mono-hydrogen phosphate
Medium
Should be used only under very good light conditions or to correct N-deficiencies
Potassium sulfate
Low
Choose water-soluble grade
Magnesium sulfate (Epsom salts)
Low
Cheap and best solubility
Calcium sulfate
Low
Very insoluble, cannot be used for nutrient solutions
Phosphoric acid (orthophosphoric
acid)
Expensive
Good use in the correction of P deficiencies
Macronutrient Table
| Micronutrient Compounds | Cost | Remarks |
| --- | --- | --- |
| Iron chelate | Expensive | Highly soluble in hot water |
| Manganese chelate | Expensive | Highly soluble |
| Boric acid | Expensive | Best source; dissolve in hot water |
| Sodium tetraborate (borax) | – | – |
| Copper sulfate (bluestone) | Inexpensive | – |
| Manganese Chloride | Inexpensive | – |
| Zinc sulfate | Inexpensive | – |
| Zinc chelate | Expensive | Highly soluble |
Micronutrient Table
4) If you are a super commercial player then you can also test your water which you will use for mother stock solution and set water quality parameters so that target ppm will be calculated accordingly you can ignore putting values if you are a home grower and using R.O. water.
5) Now you can add a mother stock solution volume, i.e total volume of water you will use to prepare the A and B mother stock solution, and here in the screenshot I have written 30L this means 30L for A and 30L for B,
Concentration unit will be ppm,
Mass unit will be gram,
Solution preparation type will be concentrated (A+BTank) solutions because we are not adding salt directly into irrigation water, here we are making concentrated A and B tanks which will be used in irrigation water/ reservoir, while pouring A and B in the reservoir of irrigation water make sure you stir properly between A and B for at least a minute because pouring both at the same time can cause insolubility.
You can also directly add salts in irrigation water/reservoir if you are a home hobby grower, while doing direct addition, fill your reservoir with half the intended volume and add salts one by one wait for complete dissolution after each salt.
Measure volume after adding salts for accurate solution preparation or better start with taking 70-80% of the indented volume of mother stock water then add salts and then add remaining 20% until it becomes your complete desired volume and same applies for direct adittion.
Concentration factor and calculation type will be the same as shown in the image.
6) Now you can click on carry out the calculation and you can also face some alert messages that could be probably because you have missed some salts which need to be added in substance selection, so if you see any error have a look alert message and add salts for missing elements.
7. Finally you will land up in results where A & B prefix is indicating salts that need to be added in Tank A or B, and the amount (grams) you'll need to add for making (Mother Stock) hydroponic nutrient solution.
From the mother stock hydroponic nutrient solution use 10ml of A and B within every liter of the final irrigation reservoir, for maintaining ph you can read this article or else use ph up down bottles available on amazon.
Note- It is always better to go for less EC 0.8 ms/cm is good to start with because in hot weather countries like India keeping high EC can damage the plant, making nutrients recipe is a trial and error process you need to experiment with your crops because different climatic conditions demand different concentration, so it is always better to start with less EC because it will not at least damage the plants, so you can reduce EC by pouring less mother stock solution than recommended, instead of 10ml within every liter you can reduce it by half and experiment with it.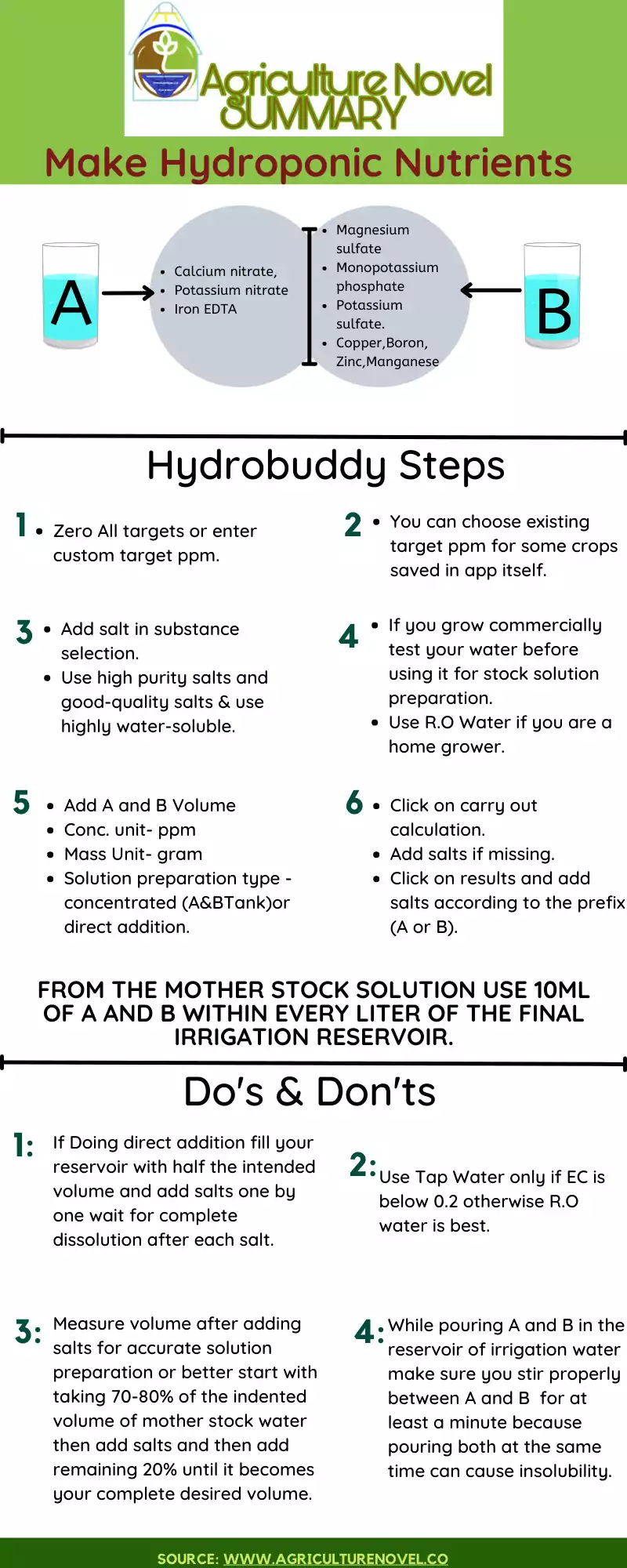 Now you can refer to my previous articles where target concentration has been given for some crops so that you can apply directly in the Hydrobuddy app, I hope now you can make your own hydroponic nutrients solution and I hope you find the article helpful please feel free to share this article!
You can try the target concentration given by me for some crops to make your own Hydroponic Nutrients Solution Recipe-
Click on the crop for the nutrient chart-
Join Our Whatsapp Group for sharing your experience!Clickhere.
Join Our Telegram Group for Updates!Clickhere.
DON'T FORGET TO SHARE THIS ARTICLE!