What is Hydroponic farming?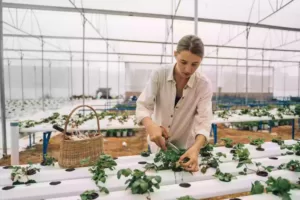 This type of soil-less production is frequently termed 'hydroponics'. While this term was coined by Gericke (1937) to mean water culture without employing any substrate.
Actually, hydroponics is only one form of soil-less culture. It refers to a technique in which plant roots are suspended in either a static, continuously aerated nutrient solution or continuous flow or mist of nutrient solution. Hydroponics is the practice of growing plants in nutrient solutions.
Popular hydroponic farming methods:-
nutrient film technique (NFT),
the deep-flow technique (DFT),
The growing medium of plants in an inorganic substance such as:-
sand,
gravel,
perlite,
Rockwool
The growing medium of plants in an inorganic substance such as:-
sphagnum peat moss,
pine bark,
coconut fibre,
SHORT HISTORY OF HYDROPONICS.
Initially, scientists used hydroponics mainly as a research tool to study particular aspects of plant nutrition and root function
World agriculture has changed miraculously over the last few decades.
The increase in the worlds' population and the improvement in the standard of living in many countries have created a strong demand for high-value foods and ornaments and particularly for out-of-season, high-quality produce. The agricultural business has grown miraculously.
The demand for floricultural crops, including cut flowers, pot plants and bedding plants, has also grown dramatically!
So the trend of a wide variety of protected cultivation systems, ranging from screen or plastic film covers to completely controlled greenhouses expanded like a huge leap!
The major cause for a shift from the soil was the proliferation of soil-borne pathogens in intensively cultivated greenhouses.
The soil was replaced by various substrates, such as stone wool, polyurethane, perlite, scoria (tuff) and so on since they are virtually free of pests and diseases due to their manufacturing processes.
The continuing shift to soilless cultivation is also driven by the
the fact that in soilless systems it is possible to have better control over several important factors, leading to greatly improved plant performance higher nutritious and higher yield!
IN HYDROPONICS CULTURE-
Without soil… with 17 required essential elements provided by means of a nutrient solution that periodically bathes the roots.
"Hydroponic culture is an inherently attractive,  simple technology, which is far easier to promote than to sustain.!!
Unfortunately, failures far outnumber the successes, due to management inexperience or lack of scientific, research development and engineering support."
SIGNIFICANCE OF HYDROPONICS
In hydroponics, the main factor is that nutrient availability to plant roots can be better manipulated and controlled in soil-less cultivation than in most traditional soil farming techniques.
Lack of suitable soils, disease contamination after repeated use and the desire to apply optimal conditions for plant growth are leading to the worldwide trend of growing plants in soil-less media.
Advantages of hydroponics:-
Hydroponics can be applied in a small area without any high effort.
Crops can be grown where no suitable soil exists or where the soil is contaminated with disease.
This culture can be applied to the roof of the buildings easily because of lightweight structures
This is quite a clean method and easily adaptable by amateurs in farming.
Easy to grow (i.e high yield with less work but skills reqd)
Labour work is very low tilling, cultivating, fumigating, watering, and other traditional practices are largely reduced.
Maximum yields are possible, making the system economically feasible in high-density and expensive land areas.
Conservation of water and nutrients is a feature of all systems. This can lead to a reduction in pollution of land and rivers because valuable chemicals need not be lost.
Soil-borne plant diseases are more readily eradicated in closed systems
More complete control of the environment is generally a feature of the system (i.e., root environment, timely nutrient feeding or irrigation)
In greenhouse-type operations, the light, temperature, humidity, and composition of the air can be manipulated.
Water carrying high soluble salts may be used if done with extreme care. If the soluble salt concentrations in the water supply are over 500 ppm, an open system of hydroponics may be used if care is given to maximum leaching to reduce salt accumulation
Disadvantages of Hydroponics
The original construction cost per acre is great (it depends on what type and what hierarchy you want to maintain)
A skilled person must direct the growing operation. Knowledge of how plants grow and of the principles of nutrition is important.
One small mistake can result in Wilting (grids and clusters should be maintained in culture.
Introduced soil-borne diseases and nematodes may be spread quickly to all beds on the same nutrient tank of a closed system.
Most available plant varieties adapted to controlled growing conditions will require research and development.
The reaction of the plant to good or poor nutrition is unbelievably fast. The grower must observe the plants every day.
Hydroponics, as a method of growing, is being primarily supported by those in the private sector who have an invested interest in its economic development like  Hydroponic Merchants Association (HMA),
CONCLUSION
Hydroponics needs to be researched more because of myths and fewer skills nobody is active in this field agriculture colleges should focus on this soil-less method..and research should be started to eliminate plastic uses in the culture set up so that this can be a reason to switch for upcoming youths and millennial.
I hope you would like this article feel free to share as much as you can and comment if any questions!
Join Our Whatsapp Group for sharing your experience!Clickhere.
Join Our Telegram Group for Updates!Clickhere.
DON'T  FORGET TO SHARE THIS ARTICLE!