Plant deficiency symptoms and its essential elements.
You can also identify this in soil-less farming. too!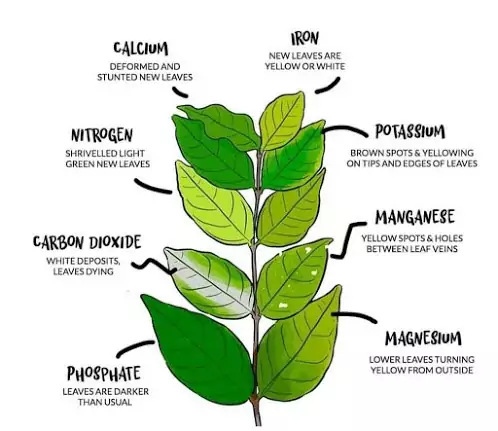 MACRO-NUTRIENTS:
These elements contribute maximum to the plant's whole metabolism depends on these elements.
Part of a large number of necessary organic compounds, including amino acids, proteins, co-enzymes, nucleic acids, and chlorophyll.
Deficiency Symptoms- Shriveled light green new leaves.
Phosphorus(P)
Part of many important organic compounds, including sugar phosphates, ATP, nucleic acids, phospholipids, and certain coenzymes
Deficiency Symptoms- leaves are darker than usual.
Acts as a coenzyme or activator for many enzymes (e.g., pyruvate kinase). Protein synthesis requires high potassium levels. Potassium does not form a stable structural part of any molecules inside the plant cells.
Deficiency Symptoms- brown spots & yellowing on tips and edges of leaves.
MICRONUTRIENTS:
Comparatively less amount required than macronutrients
Sulfur(S)
Incorporated into several organic compounds including amino acids and proteins. Coenzyme A and the vitamins thiamine and biotin contain sulfur.
Deficiency Symptoms – leaves tend to be smaller.
Magnesium(Mg)
An essential part of the chlorophyll molecule and required for activation of many enzymes, including those involved in ATP bond breakage. Essential to maintain ribosome structure.
Deficiency Symptoms- lower leaves start turning yellow from outside.
Calcium(Ca)
Often precipitates as crystals of calcium oxalate in vacuoles. Found in cell walls as calcium pectate, which cements together primary walls of adjacent cells. Required to maintain membrane integrity and
is part of the enzyme α-amylase. Sometimes interferes with the ability of magnesium to activate enzymes
Deficiency Symptoms- deformed and stunted new leaves.
Iron(Fe)
Required for chlorophyll synthesis and is an essential part of the cytochromes, which act as electron carriers in photosynthesis and respiration. Is an essential part of ferredoxin and possibly nitrate reductase. Activates certain other enzymes.
Deficiency Symptoms- new leaves are yellow or white.
Chlorine(Cl)
Required for photosynthesis, where it acts as an enzyme activator during the production of oxygen from water. Additional functions are suggested by the effects of deficiency on roots
Deficiency Symptoms- leaf spots and stunted growth.
Manganese(Mn)
Activates one or more enzymes in fatty acid synthesis, the enzymes responsible for DNA and RNA formation, and the enzyme isocitrate dehydrogenase in the Krebs cycle. Participates directly in the photosynthetic production of O2 from H2O and may be involved in chlorophyll formation.
Deficiency Symptoms- yellow spots and holes between the leaves.
Boron(B)
Role in plants not well understood. May be required for carbohydrate transport in the phloem
Deficiency Symptoms- generally stunted and distortion of growing tip death.
Zinc(Zn)
Required for the formation of the hormone indoleacetic acid. Activates the enzymes alcohol dehydrogenase, lactic acid dehydrogenase, glutamic acid dehydrogenase, and carboxypeptidase
Deficiency Symptoms- near veins yellowing occurs(at base ).
Copper(Cu)
Acts as an electron carrier and as part of certain enzymes. Part of plastocyanin, which is involved in photosynthesis, and also of polyphenol oxidase and possible nitrate reductase. May be involved in N2 fixation.
Deficiency Symptoms- first starts as cupping and slight chlorosis of either whole leaves or new leaves.
Molybdenum(Mo)
Acts as an electron carrier in the conversion of nitrate to ammonium and is also essential for N2 fixation
Deficiency Symptoms-chlorosis and necrosis.
Carbon(C)
A constituent of all organic compounds found in plants
Hydrogen(H)
A constituent of all organic compounds of which carbon is a constituent. Important in cation exchange in plant–soil relations
Oxygen(O)
A constituent of many organic compounds in plants. Only a few organic compounds, such as carotene, do not contain oxygen. Also involved in anion exchange between roots and the external medium. It is a terminal acceptor of H+ in aerobic respiration.
Join Our Whatsapp Group for sharing your experience!Clickhere.
Join Our Telegram Group for Updates!Clickhere.
DON'T  FORGET TO SHARE THIS ARTICLE!